Scalp Massager Brush: How to Use & Can It Help Dandruff?
Posted by SKYLAR GLOBAL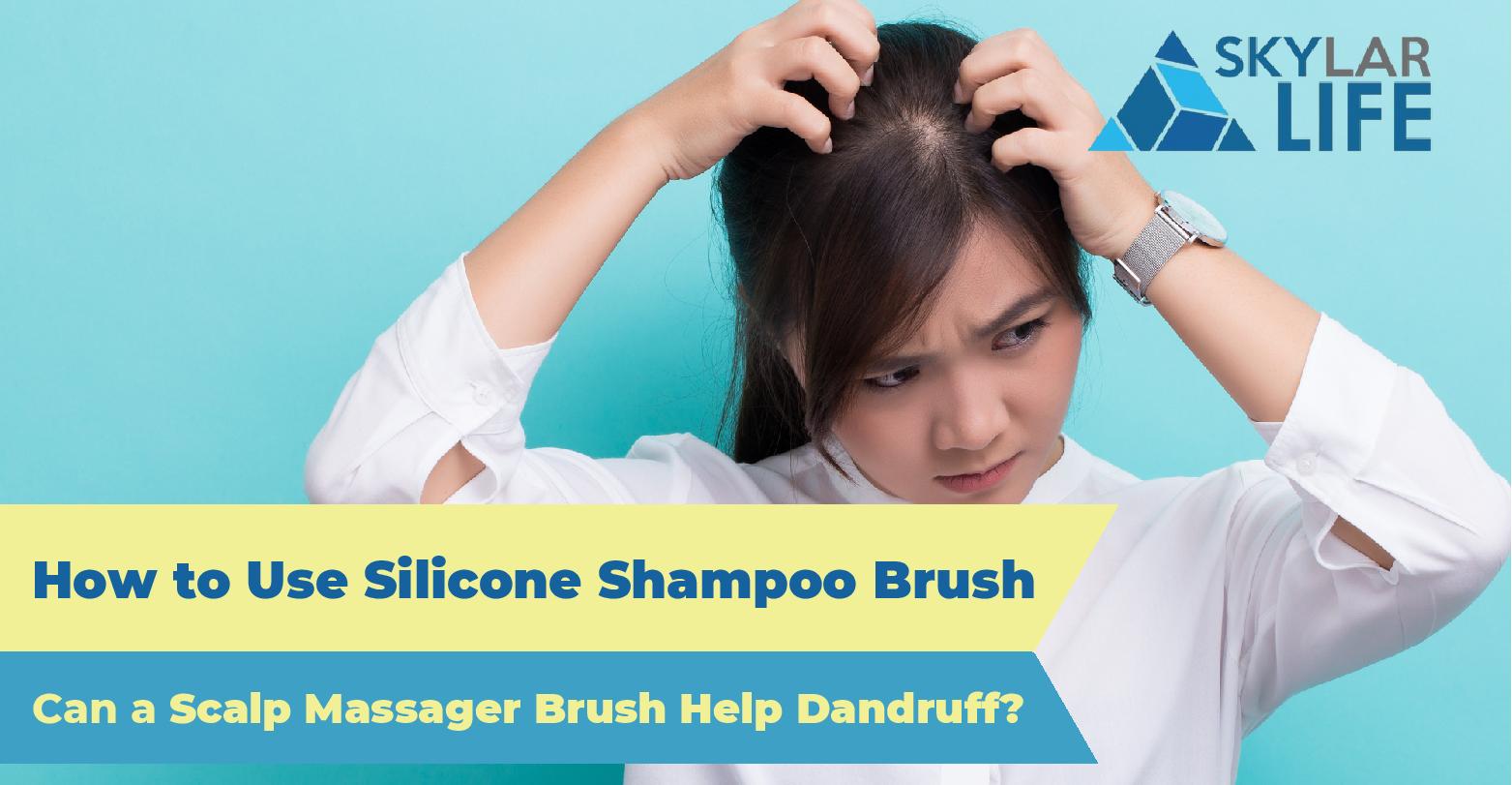 If you've never used a scalp massager brush, you likely doubt if it is worth paying for. Does it really help with dandruff or improve your scalp health? Today, we will dive deeper into how to use silicone scalp brush or silicone shampoo brush, and how it helps your dandruff and scalp exfoliation.
But First, What Are Common Causes Of Dandruff?
Dandruff is flakes that form on your scalp. Sometimes dandruff is itchy, making it annoying. So to have flakey itchy skin on your scalp can be a cause of concern for most people and they will want to get rid of it as quickly as they possibly can. 
Dandruff is caused by various reasons and depends on the individual. 
• You have dry skin. Some people are affected by dandruff due to a family history of the issue. So it won't be just your scalp, but other parts of your body will be just as dry.
• Your diet affects your scalp and hair health. Food choices can cause reactions in your body which can manifest dandruff on the scalp, deficiencies in your body due to low vitamin levels can also cause dandruff.
• The weather conditions make your scalp oily. Another cause of the skin condition can be caused by outside factors like the air is polluted or the fluctuation of the weather temperature can cause an increase in dandruff. 
• You aren't shampooing enough. Natural oil accumulates and builds up on the scalp, and it can cause dandruff. This indicates that you might use hair products that are too mild to clean your scalp properly.
• You have a yeast overgrowth. If yeast is the culprit, your condition should be diagnosed by your doctor or dermatologist. You can relieve dandruff by using over-the-counter shampoos, changing what you eat and following a good scalp care routine. 
Dandruff is flakes that form on your scalp. Photo Credit: Element Envato
Does Brushing Scalp Help Dandruff?
While some people need anti-dandruff medicine in order to restore the chemistry to the hair, many find that brushing or massaging your scalp with a shampoo brush helps to remove dandruff from your scalp and clear the debris from your hair. The scalp brush can remove the built-up products that block your hair follicles. Scalp brushes exfoliate your scalp making fewer chances for dandruff to thrive on the scalp.
Benefits of Using Scalp Massager Brush
When you massage your scalp, the act of massaging increases blood circulation to your scalp. When you increase blood circulation it will promote healthy hair and skin growth and provide you with healthier hair. The use of the brush on your skin also reduces dead skins and debris effectively.
The massage is relaxing. Using a scalp massager rather than just your fingertips can increase the benefits of scalp massage and improve your mood. It creates a different sensation from just using fingertips and helps you feel calmer from daily stress.
Scalp massager brush can also be used in the shower. Photo Credit: Element Envato
How Long Should You Massage Your Scalp?
Massage in circular motions about four times a week or every other day. Stimulation of the scalp is a great tool for a healthy scalp and hair, However, don't overdo the stimulation because it can cause more damage than healing if it is over done causing more problems than before. You should consider repeating this procedure until your hair is where you want it to be, and then decreasing how frequent you massage your scalp to two times a week.
Massage in circular motions about four times a week. Photo Credit: Element Envato
Where To Buy Scalp Massager?
Of course, the biggest place that you can find massager brushes are on the internet whether it be Amazon, Etsy, Market places will provide you so many options from different prices, bristle options, colors, textures, but most of all presenting you options that you can get the best brush that fits all your needs for your specific circumstances and your personal preferences and needs.
Our online website, Skylar Life, also has this 'Dandruff Remover Cleaning Massager Shampoo Brush' for exfoliating your scalp or doing head massage to stimulate hair growth and improve your scalp health. Our brushes are made to use in shower to reduce oil buildup. The silicone bristle won't break or tangle with your hair. This brush can also be used as your travel scalp comb as well because it is lightweight, portable and won't take up much space in your bag at all. 
How to Use a Shampoo Brush
1. Apply shampoo, conditioner or water (or keep it dry if you're going to do dry brushing)
2. Place the silicone bristle tips onto the top of your scalp and brush it in careful strokes from the hairline to the nape
3. Continue to massage in a circular motion in every area of your scalp or in the most affected areas
4. Rinse your hair with cold water and repeat the process as desired
How To Use Scalp Massager For Dandruff
The scalp brush is a self-care item that is also called by several names, including silicone scalp brush (since it has silicone bristles), scalp massager, dandruff remover, scalp massage brush, scalp cleansing brush, scalp massager shampoo brush, scalp scrubber and more.
The scalp massager brush will provide you with clearer and cleaner scalp and less debris so that your hair doesn't look like a winter snowstorm. Here are three ways you can use scalp massager to remove debris:
• Use it dry
The scalp massager used for dandruff is quite simple: you brush until there is no dandruff or very little dandruff present on the scalp. The brush removes dandruff with a gentle motion performed on the scalp by the individual affected by the flakes. 
Be sure to use a dry brush procedure on your hair in a circular motion preferably for the best results. You can also have a professional do the removal of dandruff off of your hair. 
• Use it while shampooing
However, while some people find that the removal of dandruff can be achieved by just the massager brush regularly. This process will let your shampoo penetrate even deeper. Instead of a head massage in a salon, you can create your own ergonomic deep scalp cleansing and exfoliation at the comfort of your home. 
Some with severe flaky scalp will need to be aided by dandruff medicine or dandruff shampoo that can help the process be easier for removal depending on how big the flakes are or how heavily penetrated the hair is with the white torturer.
• Use it as a travel brush
The scalp brush, especially the one suggested above, can also be used as your travel scalp comb (regardless whether you have dandruff or not) as it is lightweight, portable and won't take up much space in your bag. Plus, because it comes in various sizes and colors, it is much more fun to use compared to the original comb. So, even when you don't have dandruff or don't need a scalp massage, a scalp brush in itself can work to detangle your hair.
Whatever way you choose, be sure to keep it clean between uses to be sure that the brush remains clean and effectively treating dandruff. For your brush to be easy to clean, it is suggested that you use a premium-grade silicone brush or brushes that are made from ABS which don't have any known toxic substance or ​​carcinogen in it.
So, Do You Really Need A Scalp Massager?
A scalp massager sure isn't a magic tool, but it can help you improve the overall health of your scalp and hair. Plus, the shampoo brush and the scalp massager brush do more than just remove dandruff. They provide and restore confidence in an individual. A scalp brush or shampoo brush also fits with those who find shampooing a boring routine. The product sure adds little something to add to your self-care routine. 
Last Words
To have a product that fixes an ailment and can make you feel better with your healthier scalp, not for one day but for many days to come with a small but effective added routine. If you could, also, try a scalp massager brush from Skylarlife, and you won't be let down by the quality of our products! Collection 2019 Sale 70% Off Title for image