Stop Cleaning Your Wood Cutting Board With Detergent
Posted by SKYLAR GLOBAL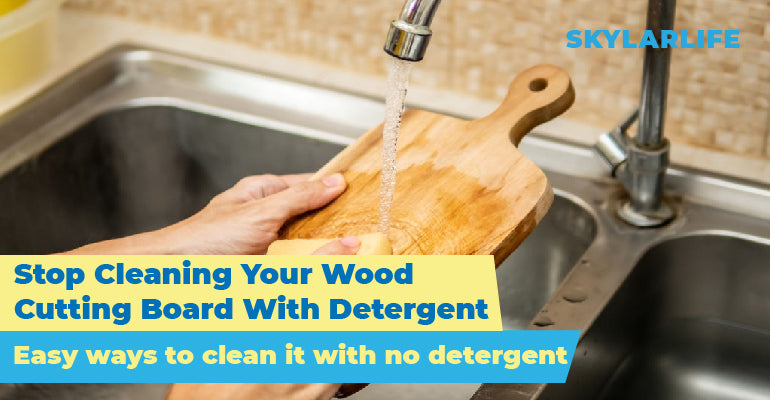 A good wood cutting board is absolutely essential for food safety.
Thus, learning how to clean the cutting board is important. Once the wood cutting board is dry, it may crack and warp easily. The oil from raw meat can be the moisturizer to the cutting board, making it fewer cracks and warps. The wood cutting board can absorb moisture and oil, thus never use detergent to wash them. Otherwise, the food you put on the cutting board may smear with the smell of detergent. Meanwhile, those cracks end up becoming breeding grounds for bacteria and potentially causing foodborne illness.



Wood Cutting Board - Innate with Self- Cleaning Function
Actually, the surface of the wood absorbs bacteria, but it will sink down to the bottom layers of the wood and vanish, instead of staying at the surface.
Photo from iStock
There are two easy ways to clean your wood cutting board with NO DETERGENT

My Favorite - Cleaning a Wood Cutting Board With Lemon and Salt
Photo from iStock
Photo from iStock
Sprinkle the board with coarse salts (sea salt/ kosher salt) 

Cut a lemon into half

Scrub the salt down each side of the cutting board using the lemon with the fleshy side down 

Let the salt and lemon solution sit for 5 minutes

Clean off the board with a Skylarlife Wood Fiber Kitchen Cleaning Pad

Rinse and dry it 
Cleaning Wood Cutting Boards With Vinegar
Photo from iStock
Add 1 part white vinegar 

to 4 parts water

Soak the cutting board in the solution for 5 minutes (Don't soak it for too long since the wood may get warps or cracks)

Rinse off and dry
Other Problems of Using Detergents
The study found that the chemical ingredients found in most popular dish wash liquid can cause permanent skin problems like dermatitis, eczema, and itchy rashes. Apart from this, if the dish wash liquid is not washed off of your hands properly, the residue remains on your skin and can cause irritation. Thus, we better change to a chemical-free lifestyle from now on in order to protect ourselves and our family! Collection 2019 Sale 70% Off Title for image