You Should Really Stop Using Dish Soap, WHY?
Posted by SKYLAR GLOBAL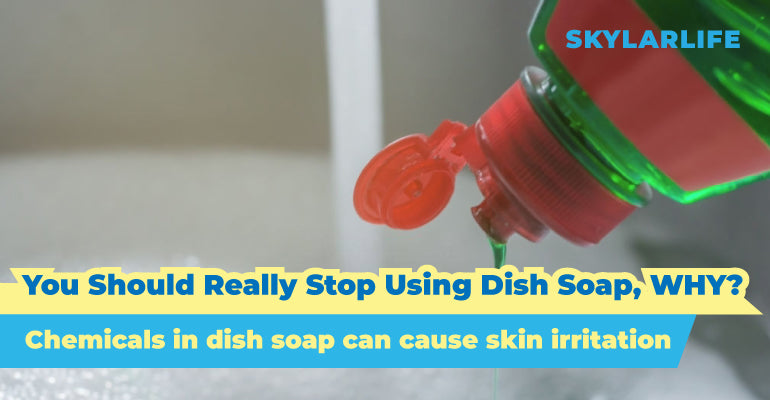 Chemicals in dish soap can cause skin irritation
A simple walk through the cleaner aisle at the supermarket, you will find numerous types of dish detergent. What should you notice :
The pungent smell of artificial fragrance;

Toxin-based ingredient list
The study found that the toxin-based ingredients present in most popular detergents and dish wash liquid can cause permanent skin problems like dermatitis, eczema, and itchy rashes. Apart from this, if the dish wash liquid is not washed off of your hands properly, the residue remains on your skin and can cause irritation.
Photo from iStock
Here are some chemicals found in most dish soap, which can cause skin irritation.
Triclosan is found in most liquid dishwashing detergents and hand soaps labeled "antibacterial". It is an aggressive antibacterial agent that can promote the growth of drug-resistant bacteria. It is a known endocrine disruptor and a suspected carcinogen. It can be absorbed through the skin and cause skin irritation, dermatitis, or allergies.
 Photo from iStock
Sodium Lauryl Sulphate (SLS)/ Sodium Laureth Sulphate (SLES) are found in common dishwashing liquid to form long-lasting bubbles and can penetrate through grease and clean it from the surface of utensils. They can irritate the skin, eyes, and lungs. SLES can be absorbed by skin cells. And this may lead to rashes and allergic reactions if people have sensitive skin.
Photo from iStock
Phthalates are found in many fragranced household products, such as dish soap. Due to the proprietary laws, companies do not have to disclose what is in their scents. Therefore, you won't find phthalates on a label but if you see the word "fragrance" on a label. They may cause acute effects such as respiratory irritation, headache, sneezing, and watery eyes in sensitive individuals or allergy and asthma sufferers.
Photo from iStock
If you have sensitive skin, you should stop using dish soap when dishwashing and start your chemical-free lifestyle! Collection 2019 Sale 70% Off Title for image