How to Remove Oil Stains from Granite Countertops
Posted by SKYLAR GLOBAL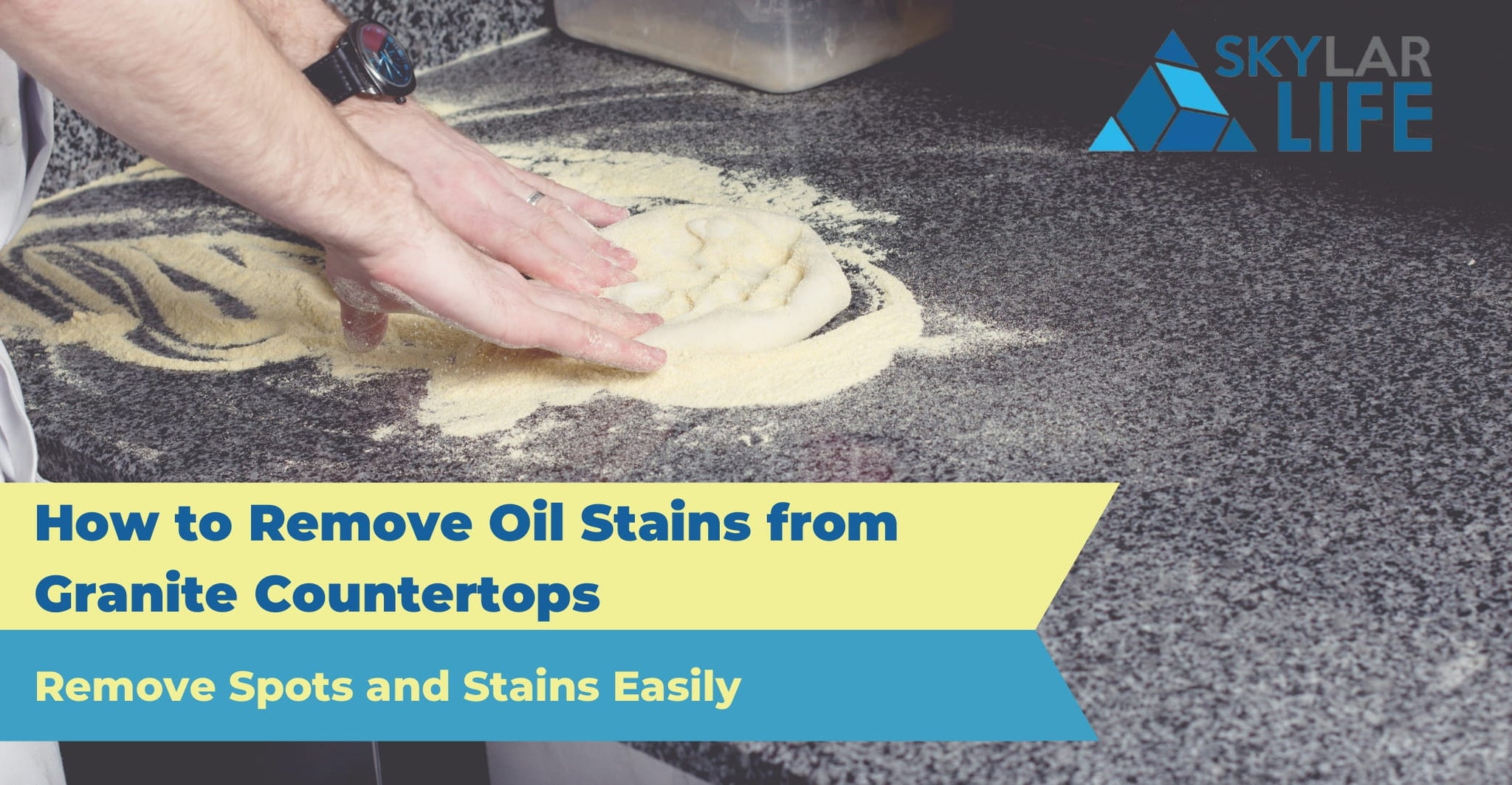 It's no wonder that granite is considered one of the most beautiful natural stones in the world. It's a unique, one-of-a-kind stone that differs one from another, making it not only beautiful but valuable. If you happen to get an oil stain on granite, you should know how to remove it fast.
Removing oil stains from granite, if you're lucky enough to have it, is essential information to have. And knowing how to get oil stains out of granite will eventually come in handy.
1. Keep Necessary Materials On Hand
The earlier you can start removing the stain, the better. So, you will need more than just a cloth with a multi-purpose cleaner, that actually does not always do good. Here are some items you should have available in your kitchen.
Heavy Duty Gloves for Cleaning
Baking Soda
Cornstarch or Talcum Powder
Sponges for Rust Stains
Hydrogen Peroxide
Mold And Mildew Commercial Cleaner
Paper Towel
Acetone
2. Remove Oil Stains Quickly
If you can keep oil off of the surface of your granite, you can prevent it from sinking past the protective barrier of the granite surface. To reiterate, removing oil stains from granite countertops as quickly as possible is the first line of defense. But be sure to absorb the oil by using a paper towel or sponge to blot instead of wiping it.
Knowing how to get oil stains out of granite countertops (and any other stains) correctly, will save you a lot of time and possibly money.
3. Pass The Baking Soda
"How do you get oil stains out of granite countertops?" This question has been asked by people a million times since oil stains are common in the kitchen. If wiping, blotting, or cleaning it doesn't remove the stain, this is what you should do next. 
The simplest method is to mix baking soda and water to form a baking soda paste that covers the stained area. Apply a layer to your preferred spot: To combat mild water stains on marble or granite, cover with a layer of plastic wrap and let it sit. If you are convinced that the stained part of the granite surface is covered, leave the baking powder to sit on the surface for about twenty minutes.
4. Use Acetone On Stubborn Oil Stains
For a more stubborn stain, scrub the stain with a soft brush with a paste of baking soda, water, and talc, making sure the surface is without any excess oil. After the surface is completely dry, place a paste that consists of equal parts baking soda, acetone and water (it should look like cake batter), directly on top of the oil stain, cover the area with another layer of film or plastic with seal on the edge. 
Make enough to cover the stain completely but don't rub it in. Instead, you will have to let it set dry for 24 hours before removing it by rinsing and wiping it clean with water. Don't panic if the stains get darker, it will disappear soon. You may repeat this step, if necessary, until you're successful in lifting the stain.
In the case where the stain sinks deep enough, it may not be enough to apply the product directly to the surface of the granite to suck away the stain. Some stains may have to be removed by professionals. 
When granite is colored, this means that the substance has penetrated the pores of the granite and needs an envelope such as that offered by many professionals to remove it. Turning paste is suitable for stain removal on granite slabs, and is considered safer than most cleaning products. The paste penetrates the pores of the granite and pulls the oil out of the stone to remove oil stains from granite.
5. Stay Away From Anything Acidic
Granite actually repels stains better than other surfaces and keeps oil and water away from the granite. Oil and any other liquids need prolonged contact with the granite for it to stain. Being prompt when removing the oil stains is essential. If the stains aren't old, you can pretty much remove the stains with any household remedies you have on hand at the time. 
However, beware of anything acidic such as white vinegar or lemon juice. Acidic properties from natural remedies can destroy granite countertops, and make the stains more prominent in some cases.
6. Know Other Common Types Of Stains
Unless you have experience with these stains, identifying the specific types of stains can be difficult. But if you can be specific about the causes, it will be easier to know what procedures or chemicals you should use. 
Besides oil stains, which are very common in the kitchen, copper stains or metal stains from cookware also occur frequently in the kitchen environments. This will require different procedures. You will need high density sponges for scrubbing rust stains without hurting the kitchen surface.
Nano Carborundum Sponge from Skylarlife – Kitchen Stains Cleaning Tool
7. Nip Oil Stains in the Bud by Sealing your Granite Countertop
To avoid removing oil stains from granite, prevent it from happening by having it sealed from the moment you get it installed, and regularly thereafter. There are over-the-counter products you can use to do the job, or you can hire a professional to do it for you.
Conclusions 
Removing oil stains from granite countertops is key information to have, and is necessary for any granite owner. Caring for your granite countertop is a must if you're going to keep the value of this unique stone. Guarding yourself in advance on how to maintain its luster, will keep your granite in good condition, and its allure will glisten for decades to come. If you've had success with these methods, be sure to leave them in the comments! Collection 2019 Sale 70% Off Title for image