Why do people choose to buy stainless steel jewelry? Maintenance tips for your jewelley look dull and discoloured
Posted by SKYLAR GLOBAL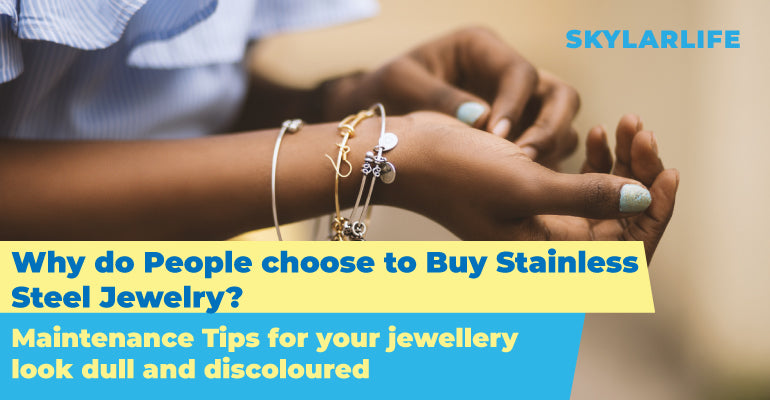 The world is moving from gold and silver to more affordable metals, aka stainless steel. The new age of fashion enthusiasts is more inclined towards steel for its affordability and durability. In addition, it is non-degradable and 100% recyclable making it a clean metal. 
Good quality stainless steel doesn't tarnish and corrode quickly. This is due to the presence of chromium which is corrosion resistance.
However, stainless steel is a relatively new trend and hasn't yet overpowered the other traditional metals. In saying that, it is excellent for both genders, male and female.
Problems with Stainless Steel Jewelry
As much as stainless steel jewelry is corrosion resistant, it is prone to dents, especially when exposed to sharp objects on a regular basis. The downside is that it cannot be repaired to its original shine like other metals. Even resizing may be a problem unless your jeweller has a specialised machine to accommodate their high melting point.
Another critical point of concern is their upkeep. Stainless steel though affordable has high maintenance. You'll have to do regular repolishing to regain the lustre and shine. Nevertheless, after a few years, the age begins to show. And the scratches don't help either. Over time the jewelry starts to lose its shine.
Stainless steel in itself is hypoallergenic. However, the presence of metals like nickel can trigger allergic reactions.
How Often to Clean Stainless Steel Jewelry
Photo Credit: Getty Images
While stainless steel does not rust, it can become dull, lose its shine and tarnish. And as such, you should clean the jewelry regularly to restore its shine. As for the cleaning schedule, the frequency depends on how dirty your pieces are and how often you wear them.
You can choose to clean them weekly, monthly or occasionally, depending on the usage. Items worn regularly like your earrings and rings should be cleaned every month. However, it should be cleaned immediately if it is exposed to chemicals such as bleach.
6 Steps You Can Take to Clean and Care for Your Stainless Steel Jewelry
Stainless steel is a popular metal for jewelry due to its lasting nature. However, it does requires a lot of upkeep to maintain its shine. Sweat and body oils don't help either and can damage the finish without proper care.
Remember to test the method of your choice in an inconspicuous area first. Alternatively, you can test it out on an old piece of stainless steel jewelry you no longer wear. This is to ensure that it doesn't harm the jewelry.
Here are some safe DIY methods by which we can clean stainless steel jewelry:
Soap and Water
Photo Credit: Getty Images

 A soapy solution is ideal for cleaning all stainless steel jewelry except those containing pearls or gemstones.
• Prepare a solution with warm water and a couple of drops of mild dishwashing liquid.

• Soak the jewelry in the solution for five minutes.

• Use a soft-bristled toothbrush and scrub the visible dirt, especially in the nooks and crannies.

• Rinse in warm water to remove any residue present. And dry with a microfiber cloth.

• Buff and polish was a microfiber cloth for that shine.
Toothpaste
Photo Credit: Getty Images
A mild toothpaste works well as a stainless steel polish for those with a dulled finish and mild stains. However, the formula you choose should be a non-gel with no whitening ingredients.
• Clean your stainless steel jewelry with a damp toothbrush and a dab of toothpaste. Alternatively, you can also use a damp microfiber cloth.
• Rinse the jewelry in warm water to remove all the traces of toothpaste—dry, polish and buff with a microfiber cloth.
Baking Soda
Photo Credit: Getty Images

Baking soda is a multi-purpose cleaner, efficient in cleaning most surfaces. It effectively removes most stains, making it an ideal jewelry cleaner. The abrasive qualities of baking soda will help in polishing stainless steel without being harsh on the jewelry.
• Make a paste with one tablespoon baking soda and ½ tablespoon water.
• Use a soft-bristled toothbrush to clean the jewelry, especially the deep crevices.
• Rinse in water to remove the residue.
• Add a couple of drops of olive oil to a dry cloth and polish your jewelry.
Ultrasonic Cleaners
Photo Credit: Getty Images
Ultrasonic jewelry cleaners are valuable when it comes to cleaning jewelry. They use ultrasound waves and chemicals to lift the dirt, grime and other contaminants to the surface. Due to this process, the ultrasound cleaner cleans the hard-to-reach places in intricate jewelry pieces much more effectively. However, most ultrasound jewelry cleaners cannot be used on those with gemstones and pearls.
Having said that, it is safer to follow the recommendations mentioned in the user manual.
Vinegar
Photo Credit: Getty Images
White vinegar effectively cleans jewelry made of metals such as stainless steel, gold and sterling silver. Not only does it leave a brilliant shine, but it also disinfects it.
• Dilute 1 cup of white vinegar with 1 cup of water to make a cleaning solution, and soak your jewelry for a few minutes.
• Use a soft cloth to gently scrub the dirt, followed by thorough rinsing.
• Dry and polish with a soft microfiber cloth.
Maintenance Tips
Photo Credit: Getty Images
The best part about stainless steel jewelry is that it doesn't get tarnished as easily as other jewelry. However, it is prone to other issues similar to tarnishing and can make your jewelry look dull and discoloured. Nevertheless, your stainless steel jewelry can last for years with proper care and maintenance.  
• Do not let your stainless steel jewelry come into contact with lotions, perfumes, hairspray and such. Chemicals present in these products can get in the crevices and progs. Moreover, they create a film making it look dull and dirty.
• Remove your jewelry before swimming and doing strenuous activities. Continuous exposure to saltwater and chlorine can discolour and slowly erode the jewelry.
• Keep the jewelry separate, particularly those made from other metals. Store them in soft bags.
• Use a cleaner specially designed for stainless steel. Apply it with a soft cloth and wipe it clean. Ensure that you go in the direction of the grain and avoid any gemstones.
• To ensure the integrity of the cleaner, test it beforehand on an inconspicuous area or old jewelry.
• Rubbing your jewelry with distilled vinegar can help get rid of water spots. Ensure that you rinse off the vinegar with warm water and pat dry with a soft cloth.
• Restore the shine on your stainless steel jewelry with baby oil. Dip a soft cloth in baby oil and rub the jewelry to remove any stains.
• Use toothpicks to clean the nooks and crannies that a toothbrush cannot reach.
• Scratched jewelry? Take it to a professional jeweller for polishing.
• Remove stainless steel jewelry when gardening. Rocks and stones are abrasive and can damage the finish. Collection 2019 Sale 70% Off Title for image