How to Clean and Capture the Spills and Crumbs on the countertop easily?
Posted by SKYLAR GLOBAL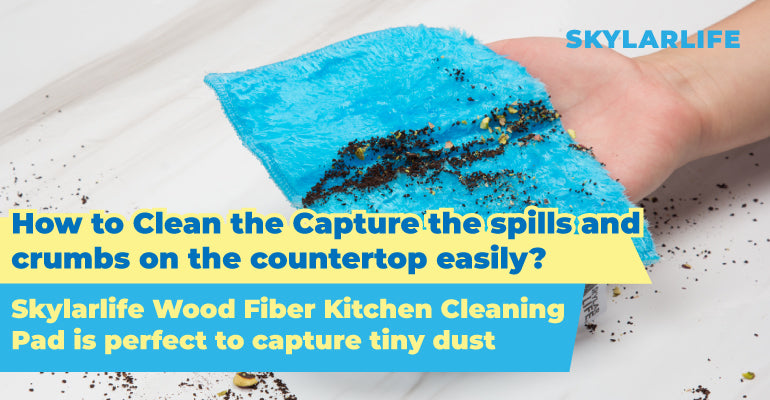 Problems of normal kitchen cloths for cleaning a messy kitchen
Have you ever tried to pick up the crumbs on the countertops but there are always some left and you can't clean it completely? We all came across this problem since some kitchen clothes aren't good at picking up tiny dust or clearing the spills. Thus, a good kitchen cloth is really important since it can help to reduce a lot of troubles. Every time I try to use a kitchen cloth to pick up the crumbs, some of them are always left behind! When I finally pick up all the crumbs after several times, the dirt on the towel is difficult to wash away, making the towel look so old and dirty. Yuck!
Luckily, after switching to Skylarlife Wood Fiber Kitchen Cleaning Pad, I found everything becomes easier! Here are two important particular features that help:
Photo form istock
Perfect To Capture Dust, & Lint-Free
Skylarlife Wood Fiber Kitchen Cleaning Pad is perfect to capture tiny dust, like crackers, crumbs, cooking spills, or oil grease on the countertop, stove, or wall tiles without leaving any lint, and keep your cooktop always clean while cooking or after preparation.
Easy to Clean and Always new
Skylarlife designed an oil-resistant wood fiber towel which is new-fangled cleaning with physics applies to the Adhesive Power of Forces- Cleaning without detergent. The dirt and greasy stay locked inside the fiber until you wash it under water. With its special function of ultra oil-absorbing, you simply rub the towel, and the dirt will transfer to the towel and stay locked. Afterward, you can simply wash away the oil and grease easily under running water without any detergent.
$ 11.99 USD

from

$ 7.99 USD
You Save: $ 4.00 USD (34%) Collection 2019 Sale 70% Off Title for image