Why is everything greasy and sticky in the kitchen and how to degrease it?
Posted by SKYLAR GLOBAL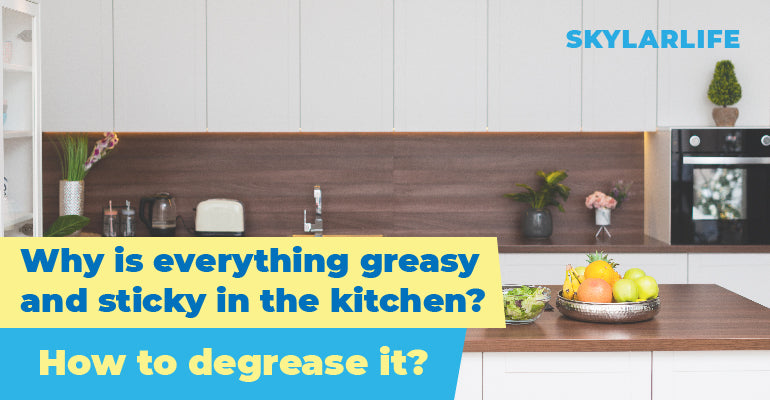 Have you been missing out on these greasy places in your kitchen and how to decrease them?

If you cook, you must come across a problem, why everything in the kitchen is so greasy and sticky! Every nook and cranny of the kitchen ends up a greasy mess.



The greasy in the kitchen comes from the oil you use for cooking
Animal fat released from the food you cooked, especially high animal fat content like fatty cuts of beef, pork, lamb, or butter, then a lot of the animal fat will melt into the pan, heat up and evaporate and stick to the surface. If you occasionally deep fry something in a lot of oil, then you will get a lot of oil vapor during those cooking sessions. Depending on how often you fully clean your kitchen, oil from these sources can build up over time on many kitchen surfaces, leaving them with sticky skin. Over time, the grease dries and gradually built-up and becomes super sticky if we don't wash it frequently.
Photo from iStock
Nonetheless, when you use detergent and normal cloth to clean the spillover on the countertop. How can you make sure the detergent is washed away? You can't wash with running water? For instance, you can't rinse your microwave oven or fridge after spraying detergent inside, you can just wipe the detergent off. If the detergent isn't rinsed thoroughly, their residues may be harmful to the human body. 
Photo from iStock
The surface that not intended to be cleaned by loads of water/ detergent:
Microwave oven

Stovetop

Seasoning bottle

Fridge handle

Cabinet

Vent hood

Coffee maker 
With its adhesive power of force, it can easily wipe the grease and dirt off on your kitchen applicants, cabinet, wall tiles, fridge with just water! No detergent is needed. Also, the grease and dirt stay locked inside the fiber until washing with water, therefore, you won't feel oil or stinky on the wood fiber towel. Once it contains water, moisture can penetrate into the inner layer of the fiber, and oil stain and grease will be detached and washed away easily. No detergents mean no harm to our hands! It can also save your money from buying detergent and plenty of paper towels. From now on, you can clean your greasy kitchen with our wood Fiber pad! 
$ 11.99 USD

from

$ 7.99 USD
You Save: $ 4.00 USD (34%) Collection 2019 Sale 70% Off Title for image