Which one is the best kitchen cloth? Comparison of cotton, microfiber, and wood fiber cloth.
Posted by SKYLAR GLOBAL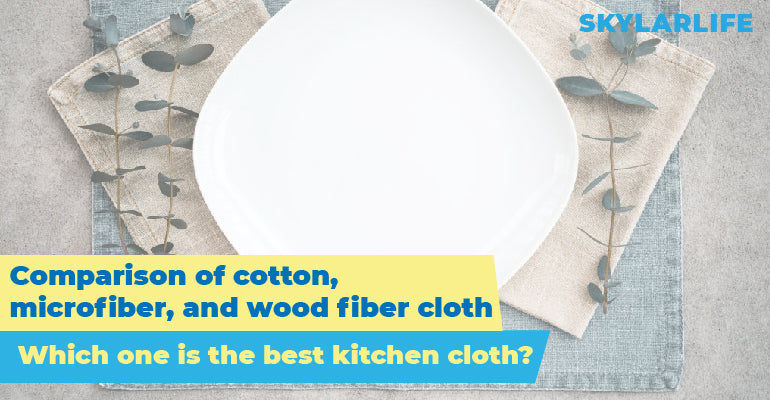 A Good Kitchen Towel Can Help To Keep Your Kitchen Neat And Clean
Cooking gets pretty messy sometimes, especially when you have multiple items cooking at once and/or using ingredients more on the messy side. A good kitchen towels help you to clean off and dry messy prep and cooking areas, or clean up accidents and spills.
Photo from iStock
Today we'll do a comparison of 3 popular cloth materials: Cotton, Microfiber, and Wood Fiber, based on 4 criteria when choosing a kitchen cloth
1. Antibacterial and Mold Resistance
Mold resistance is a very crucial criterion when deciding what a good dishcloth is.
Cotton Towe
l: 
Not Antibacterial and Mold resistant.
Cotton harbors odor or bacteria once you use it.  Studies have shown that bacteria can multiply on cotton towels and provide an ideal environment for microbial growth, including bacteria, mold, and yeast. Once it gets mold in it, it stinks.
Photo from iStock
Microfiber Towel: 
Not Antibacterial. Though it is not mold resistant. Easy to dry than Cotton, so it is less prone to mildew and mold.
Photo from iStock
Wood Fiber Towel:
Wood fiber is made of adult cork, which is antibacterial and not conducive to bacterial growth and its numerous irregular gaps have super hydrophilic that can quickly absorb the water on the surface of the fabric into the fiber, which cuts off the passage of bacteria on it. Thus, wood fiber is a perfect material to prevent the growth and reproduction of odorous bacteria and mold.
Durability 

A durable kitchen cloth can help to save a lot of money as you don't need to keep buying a new one. 
Photo from iStock
Cotton:
As cotton towels are not antibacterial, they may wear out easily as mold may damage the structure of the cloth.
Microfiber:
Compared to cotton cloths, microfiber cloths are much more durable. However, microfiber materials need proper care which should not machine dry them on a high warmth since microfibers can melt and shrink the split fibers, making your towels permanently less effective.
Wood Fiber:
With strong fiber cohesion and advanced tensile strength, Wood fiber dishcloth won't wear out and be broken. Also, all stains can be washed away easily and always look like new.
Absorbency

Photo from iStock
A good kitchen towel should be thick and durable, easy to neatly soak up spills on your counter, reducing the usage of paper towels.
Cotton:
Cotton has the least absorbency than other material
Microfiber:
Able to soak up a certain amount of liquid due to its finely woven construction.
Wood Fiber:
Wood fiber absorbs moisture, dehumidifies, and breathes, ranking 1st among all major textile fibers. Because wood has congenital permeability and transportability, the cross-section of wood fiber is hollow, covered with large and small irregular pores, which can absorb and evaporate a large amount of water in an instant, and its water absorption is 3 times that of cotton.
Ease of cleaning

Photo from iStock
Cotton:
The oil is fixed on the surface of the cotton which is extremely difficult to clean. It also requires a break-in period to disperse the cottonseed oil, leading to cross-infection.
Microfiber:
Require detergent to clean the oil fixed on and beware of the food residue.
Wood Fiber:
No detergent is needed. Due to the nature of wood pulp, it possesses irregular sector structure, numerous irregular gaps among fiber combination arrangements and it has a super high hydrophilicity. Once the rag contains water, moisture can penetrate into the inner layer of the fiber, and oil stain and grease will be detached and washed away easily,  maximizing the magical effect of draining oil and decontamination without any detergent, leaving your dishes gleaming and spotless.
Conclusion:
To summarize, cotton is one of the least expensive materials. Yet, it is less effective in removing oil and absorbing water when compared with microfiber and wood fiber cloths. Mold and bacteria are more likely to multiply and grow on cotton cloth. Next, microfiber cloth has better absorbency and is able to capture food residues but just keep in mind that it can't be washed with high-temperature water. Last but not least, wood fiber has similar features with microfiber but works better in mold resisting, and it is the easiest to remove grease on the towel. Thus it won't become stinky and has a long lifespan. Collection 2019 Sale 70% Off Title for image